Compressions only CPR
The Australian Resuscitation Council has introduced several changes to CPR.
Following extensive international research, compressions only CPR is now acceptable if the rescuer is either unwilling or unable to perform the rescue breathing. The survival rate between survivors who have received breathing and compressions CPR compared to those who have had compressions only CPR is similar.
Childcare workers
As of 2012, all Childcare employees who are required to hold a First Aid certificate must now also hold the Asthma (22024VIC) and Anaphylaxis (22099VIC) units of competency. This can be delivered as part of the first aid course or as a stand alone unit.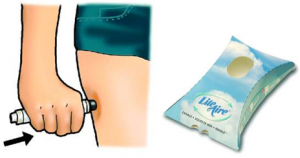 Changes to First Aid assessment
As part of the assessment process in the Senior First aid (Apply First Aid) course there is a requirement that all candidates demonstrate competency using an asthma spacer to treat an asthma attack and demonstrate how to administer an Epipen or Anapen to a casualty suffering from anaphylactic shock. This type of allergic reaction is becoming more common in Western society and there appears to be a link between increasing allergies and exposure to petrochemicals such as plastic drink bottles.